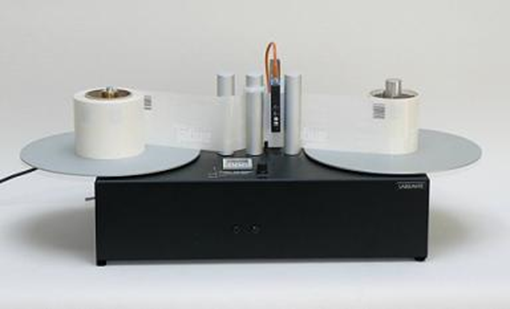 The new RRC-330-U Universal Reel-to-Reel Counting System uses a state of the art ultrasonic fork detector that allows the RRC-330-U to count almost any type of labels, including transparent or dark labels.
The ultrasonic detector detects the labels by sensing the difference in thickness between the backing paper and the backing paper plus label. The RRC-330-U accepts roll with a maximum outer diameter of 330mm.
Technical details
The ACH (Adjustable Core Holder) accepts cores from 25 to 101mm

The supply core is supplied in both 40mm and 76mm (other core diameters available on-demand)

Self-contained Counter System

40 & 76mm for the supply core

Adjustable Core Holder (25mm to 101mm) for the take-up shaft LABEL WIDTH (mm) : 152mm

ROLL DIAM. (mm) : 330mm

SPEED : 1) 72cm/sec. 2) 235cm/sec

Maximum Label Roll Weight: 7Kg
.